Protest over Brighton weapons factory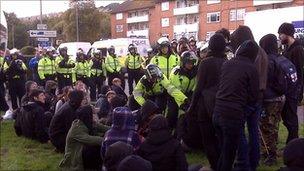 Fifty-three people have been arrested after protesters attempted to shut down a Sussex weapons manufacturer.
It follows a day of skirmishes between police and anti-war demonstrators outside the EDO factory in Brighton, which spilled out on to the streets.
About 150 Smash EDO campaigners gathered near the EDO MBM Technology building in Moulsecoomb.
Police remained on the streets of the city during the evening, after the protest had ended, to maintain order.
They had earlier investigated a report of criminal damage at the Royal Bank of Scotland in North Street, where a man and a woman were believed to have tried to glue themselves to the front door.
Officers said the couple had not been traced.
They said many of the arrests had been to prevent a breach of the peace.
In July, seven activists were cleared at Hove Crown Court of plotting to damage the EDO complex.
The group, members of Smash EDO, had admitted breaking into the building in the early hours of 17 January last year and sabotaging equipment worth about £200,000.
Sussex Police said about 50 protesters gathered in Bates housing estate, 40 near the University and the rest in Wild Park on Wednesday.
Brighton and Hove Divisional Commander, Ch Supt Graham Bartlett, said: "Despite designating a highly visible site for protesters on the main road to the factory, many of them have not used it.
"Our aim today was to facilitate peaceful protest, instead many have caused disruption by failing to comply with police directions, running away through fields and woodland and causing a disruption to local people.
"Their disorderly behaviour has put pressure on police resources as we have needed to contain them to curb further disruption as they have blocked major roads and headed towards other targets in the city."
He said there had been some injuries, caused by protesters running around.
A force spokesman added that there had not been any serious disorder.
Speaking at the start of the protest, campaign spokesman Andrew Beckett, said: "We will maintain a presence all day to shut down this factory of death."
EDO MBM is an approved supplier to the Ministry of Defence and governments worldwide.
The company said it was not commenting on the protests.
Related Internet Links
The BBC is not responsible for the content of external sites.