Development agency chief executive leaving post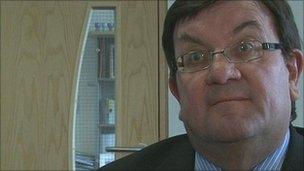 The chief executive of the North West Regional Development Agency (NWDA) has announced he is leaving his job.
Steve Broomhead told the agency's AGM in Manchester that he would be taking early retirement next month.
The government announced in June that the nine regional development agencies would be scrapped by March 2012.
Mr Broomhead used his speech at the AGM to outline the achievements of the agency in the past 12 months.
"I have enjoyed my time in this role immensely and it has been a privilege to work with so many committed partners and talented staff," he said.
"The achievements of the agency are there for all to see. However, I feel the time is now right for me to step down and get a better work/life balance after seven and a half years in a very busy and demanding role.
"The agency has a strong executive team which will continue to ensure a smooth transition and closure, working closely with government and our many partners in the region."
Mr Broomhead, who was appointed in 2003, was praised for his "enormous contribution" to the region by NWDA chairman Robert Hough.
"He is well known and respected across both the private and public sector and has been a fantastic ambassador for both the agency and the wider north west," he said.
"His strong partnership skills have set the foundation for the transition and closure of the agency and I fully respect and understand his decision to retire at this point."
The nine agencies are being replaced by a £1bn Regional Growth Fund which will distribute grants through Local Enterprise Partnerships (LEPs).
Related Internet Links
The BBC is not responsible for the content of external sites.