Funeral for director of Raoul Moat stand-off Taser firm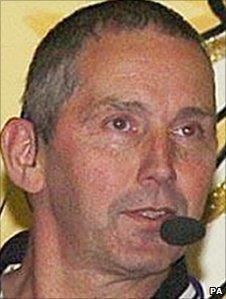 The funeral has been held for a company director whose firm supplied Tasers which were used in the police stand-off with gunman Raoul Moat.
Taser expert and former policeman Peter Boatman, 57, is believed to have committed suicide.
His company Pro-Tect Systems, of Daventry, supplied weapons to Northumbria police.
More than 700 mourners attended Peter Boatman's funeral at St Michael's Church in Northampton.
There was a police guard of honour outside Campbell Street police station in Northampton following the funeral, which was attended by Northamptonshire Police Chief Constable Adrian Lee.
Speaking after the service, Assistant Chief Constable Andy Frost said: "The number of people here leaves in no doubt how respected this guy was.
"He made a difference to the safety of officers and consequently the safety of the public. He made a difference nationally and internationally.
"There were officers here from all over the country, here in recognition of the work he did."
Sue Armstrong, 49, a teacher, who worked as a young officer under Mr Boatman's command in the 1980s, said: "He was an absolute legend. We all knew him as Boaty.
"He was warm, courageous and very fair, not just to his police officers but also to members of the public."
Mr Boatman is thought to have killed himself shortly after his firm's Home Office licence to import and sell Tasers was revoked.
The Home Office said the company had breached its terms by supplying X12 Tasers, which were still being tested by government scientists, directly to police involved in the Raoul Moat manhunt.
Mr Boatman is said to have felt ashamed by the licence being revoked.
Moat went on the rampage with a gun in Northumberland in July after shooting his former girlfriend, Samantha Stobbart, 22.
He killed her boyfriend Chris Brown and wounded Pc David Rathband, blinding him.
Moat was eventually tracked to the town of Rothbury in Northumberland where he shot himself.
Related Internet Links
The BBC is not responsible for the content of external sites.