Woman 'was scared of policeman'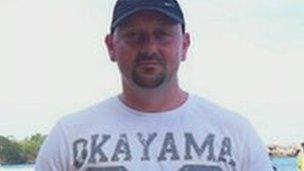 A woman was terrified when detectives investigating the conduct of a policeman contacted her, a court heard.
The woman had told the court Pc Stephen Mitchell kept her under his control for four years after he made her perform a sex act after arresting her.
The Northumbria police officer, 42, of Glasgow, denies five counts of rape, six of indecent assault and 15 of misconduct in public office.
The court heard she believed detectives investigating him were working for him.
Det Con Cath Easton, who was working for Northumbria Police's Professional Standards Unit, told Newcastle Crown Court she went to the woman's home in June last year to ask if she had any concerns about how she had been treated by a police officer.
She said she was told by the woman she did not but the next day she called the detective.
Ms Easton said: "She was crying, she was hysterical.
"It took her a while to get her words out, but she was saying 'how do I know I can trust you? How do I know he has not sent you to test us?'
"She was frightened and she told us she was frightened. She was in a real state."
The detective reassured the woman and later she called back alleging Mr Mitchell demanded she perform a sex act on him after she was arrested, the court heard.
Ms Easton said: "She was absolutely terrified that he knew I had contacted her."
Related Internet Links
The BBC is not responsible for the content of external sites.