Car ploughs into Rochdale nightclub crowd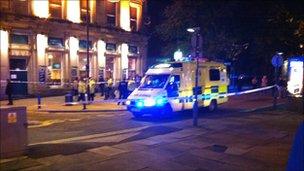 Twenty three people were injured, two of them seriously, when a car was deliberately driven through a crowd outside a Greater Manchester bar.
People were standing outside Dali Bar in Rochdale when a Saab mounted the pavement and was driven at door staff.
The car went along the pavement for up to 200 yards before being driven away.
Two men in the car had earlier been refused entry to the bar, said Greater Manchester Police. The Saab was later found abandoned.
Ch Supt Jon Rush, of Greater Manchester Police, said: "We know there was some kind of altercation in Dali Bar whereby two men were asked to leave due to their behaviour.
"As a result of that these two men we believe got into a vehicle parked nearby and literally drove the vehicle at the door staff.
"There were dozens of people here coming out of the bar in various locations and literally these people were knocked down like skittles unfortunately. A really, really deliberate act. There's no doubt about that."
The stolen Saab car, believed to have been involved in the attack, was found on Albert Royds Street at about 0420 BST.
The collision happened on Packer Street, a main street near the town hall, at about 0210 BST.
One of the victims, a 17-year-old boy who did not want to be named, said the vehicle ran over his leg. He also suffered minor face, head and knee injuries.
"It looked like a fight, then I looked by the side of me and there were loads of people on top of the car and by the time anything happened he had already hit me," he told the BBC.
"It was like something out of a film. I looked behind and there were people all over lying on the floor in a right mess.
"It was madness. Everyone was running all over [and] didn't know what to do."
RAF serviceman Jonny Brown, 20, from Rochdale, was leaving the bar when the incident happened.
"I was about to step outside the pub when a bouncer pushed me back and pretty much saved me from getting hit.
"That's when I saw all the people just lying on the floor, it all happened so fast.
"I've just got back from Afghanistan, so I've seen worse, but it was still pretty bad."
The North West Ambulance Service (NWAS) sent nine vehicles to the scene and a number of casualties were taken by ambulance to three local hospitals.
A spokesman for the Pennine Acute Trust (PAT) said they were treated in Fairfield General Hospital in Bury, Royal Oldham and North Manchester Hospital.
Eleven other people made their own way to Rochdale Infirmary and were treated at the accident and emergency department, he added.
Mike Hynes, a NWAS section manager, said: "Initially when the first response arrived it was quite a chaotic scene as you can imagine.
"There were people milling about, people lying about seriously injured. He reported that back to the control unit where the various support vehicles followed up to support, including senior clinicians and senior operations manager to manage that chaotic scene."
Earlier reports suggested 25 people had been injured, but that was later clarified by the ambulance service, which said the figure was 23.
Related Internet Links
The BBC is not responsible for the content of external sites.