Engineering programme for Tyne and Wear Metro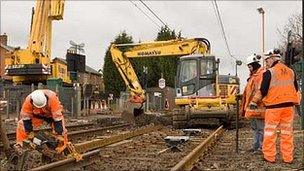 Passengers on the Tyne and Wear Metro are being warned to expect disruption during a programme of engineering work.
Nexus, which owns and manages the system, is spending £38m on replacing and upgrading equipment and infrastructure.
The work will involve weekend closures on short stretches of the network.
However, a renewal of the tracks and embankments between Tynemouth and Byker will lead to the line closing for three weeks during the spring.
Nexus is already in talks with local schools, councils and health providers about the plans to minimise the impact.
Bernard Garner, director general of Nexus, said: "The engineering works over the next six months are a main part of the 'all change programme', and build on projects like the modernisation of Haymarket and Sunderland stations.
"Metro is vital to the economic and social life of the region, and in return for short-term inconvenience we will be securing and modernising the system to last for decades to come."
Related Internet Links
The BBC is not responsible for the content of external sites.