Fines warning over messy gardens in County Durham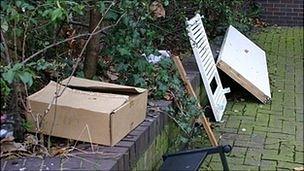 Householders in County Durham have been warned they face fixed penalty fines if they fail to keep their gardens tidy.
The county council has recently issued more than 20 Litter Clearing Notices on the Watergate Estate in Crook during a clampdown on untidy yards and gardens.
These give people seven days to clear up. If they fail to do so and ignore a second notice they risk a fine.
The council could then clear the land using its own workmen and claim back the cost from the householder.
Riche Brown, Durham County Council's neighbourhood warden co-ordinator, said: "The crackdown has meant 22 notices have been issued to residents urging them to clear their properties or risk further action which can include us issuing fines or prosecutions.
"After the notices were issued, 20 of the householders took action and tidied their properties, improving the appearance of the estate greatly."
He added: "The new fixed penalty has been really effective in dealing with the accumulations of eyesores like fridges, tyres and sofas."
Related Internet Links
The BBC is not responsible for the content of external sites.