Blanchard's child sex abuse ring brought to justice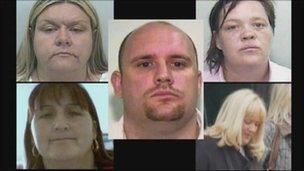 "The irony is that four of the defendants used the internet to pursue their criminal behaviour - but the police and I have used the internet to develop the cases against them."
The words of crown prosecutor Ann Reddrop, who was speaking outside Winchester Crown Court where the fifth and final paedophile was convicted of involvement in "one of the most shocking child abuse rings in the country".
Care worker and grandmother Tracy Dawber, from Southport, was found guilty by a unanimous verdict of sexually assaulting a five-month-old girl and allowing pictures to be taken of the abuse.
She is one of four women who was persuaded by convicted paedophile Colin Blanchard, 40, to engage in child sex abuse.
Dawber, 44, was the only one who met the Rochdale businessman, and engaged in a sexual affair with him.
The other three women in his paedophile web, Vanessa George, 40, Angela Allen, 39, and Tracy Lyons, also 39, communicated with him over the internet and by mobile phone.
After meeting online between autumn 2008 and spring 2009, Dawber and Blanchard exchanged thousands of messages - many containing extreme and explicit images of child abuse.
Ms Reddrop, who oversaw all the evidence gathered from five different police forces, was keen to stress that Blanchard was "a highly controlling and manipulative man".
"He was the reason that it all happened in the sense that he started the activity off, had it have happened without him I don't know," she told reporters outside court.
Through the web, he coaxed them into sharing their deepest and darkest fantasies.
Allen, from Nottingham, was deemed the most sinister of those who joined the ring by Det Supt Adrian Pearson of Greater Manchester Police, who described her as "truly evil".
She pleaded guilty to four child sex assaults and one count of distributing an indecent image and was given an indeterminate sentence, with a minimum jail term of five years.
George, who left 30 distressed families in her wake after abusing some of their children and taking explicit photographs of the abuse at Little Ted's Nursery in Plymouth, was given an indeterminate sentence and told she would serve at least seven years.
Lyons, who is yet to be sentenced, is a mother-of-nine from Portsmouth. She has admitted six charges including two sexual assaults on a toddler and distributing indecent images.
It took two trials and thousands of pounds of public money to bring Dawber to justice. A jury failed to reach a verdict in June - a fact the media was banned from reporting in case it jeopardised a retrial.
In 2008 Dawber allowed Blanchard, her boyfriend at the time, to take photographs of the abuse of the five month-old-girl on his mobile phone.
He went on to store these images on his home computer, as well as uploading them and sending them to the other women in his paedophile ring.
A short video showing a woman abusing a boy on his computer was initially found by Greater Manchester Police officers in June last year.
An email address connected to it belonged to Tracy Lyons in Portsmouth.
Officers informed Hampshire Police who arrested Lyons and she admitted she was the person in the video.
Meanwhile officers examined a mobile phone found in the door compartment of Blanchard's Volvo car. They found a series of images of a woman abusing a baby.
Some of the images also showed a man's hand with a very distinctive watch strap. Other photos on the phone showed Blanchard wearing a watch with the same strap.
It was this watch strap, along with the Little Ted's logo on George's nursery tabard - spotted in another image of child sex abuse - that enabled officers to link them all together.
And at the centre of the web was Blanchard.
Det Con Andy Pilling, of Greater Manchester Police's Sexual Crimes Unit, who led the investigation into the paedophile, said: "Blanchard's involvement with Lyons and Dawber shows his willingness to entice like-minded people into his world.
"Blanchard is the common link between all these women. However, no-one should be under the misapprehension that they were somehow forced into abusing children - they willingly took part."
As far as the CPS and the police are concerned, their year-long investigation is finally over.
Dawber, Lyons and Blanchard are to be sentenced together at Bristol Crown Court at a later date.
Related Internet Links
The BBC is not responsible for the content of external sites.