County Durham sailor inspired by Dunkirk rescue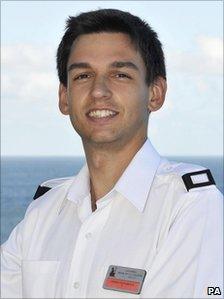 A County Durham officer cadet has told how he joined up after hearing he owed his life to the Royal Navy.
Officer Cadet Robert Coatsworth's soldier grandfather Tommy was rescued from Dunkirk in 1940 by a navy lieutenant after being left for dead.
The 26-year-old from Barnard Castle is completing training on board the helicopter carrier HMS Ocean.
He said the "family legend" of his grandfather's rescue by the Royal Navy had inspired him to join the service.
Officer Cadet Coatsworth's grandfather was a 22-year-old Green Howard when he was shot twice and left stranded on the sands of northern France along with 338,000 British and French troops trying to escape Germany's advancing force.
His identity tags had been removed and sent with a telegram to his mother to inform her of his death.
It was only when a navy lieutenant making a final search of the beach shone a torch in his eyes that the injured soldier moved and was put on the last ship home.
Officer Cadet Coatsworth is nearing the end of a five-week spell with HMS Ocean in the Atlantic.
He said: "The story of how granddad survived is a family legend.
"It always stuck in my head how lucky he was and how, but for that Royal Navy lieutenant who was searching for survivors among the bodies gathered under a destroyed pierhead, neither of us would have been here.
"He'd been shot in the leg twice and had been laid on the beach for three days.
"The story of what happened to him has always been my inspiration."
The officer cadet' s grandfather and his wife Irene went on to have three children and six grandchildren.
Related Internet Links
The BBC is not responsible for the content of external sites.