Huntingdon Life Sciences supplier's life 'under siege'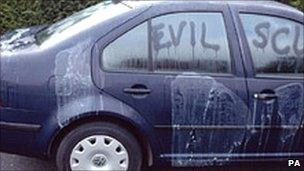 A businessman who was persecuted by animal rights activists because of his link to Huntingdon Life Sciences (HLS) has said he has spent seven years living under siege and fearing for his family's safety.
He removed his name from the electoral register, installed security devices at his home, took a different route to and from work every day and changed his car regularly in an effort not to be identified.
But despite these measures, the man - who is too frightened to reveal his identity - was tracked by a gang of activists who subjected him to a campaign of fear and harassment.
"We would get letters which contained broken glass, blood-stained razor blades, syringe needles, used condoms and used sanitary towels, which the letters claimed were from HIV sufferers," he said.
The three men and three women responsible for turning his life and the lives of his family upside down have now been sentenced.
Thomas Harris, 27, of Ringwood, Hampshire; Nicola Tapping, 29, also from Ringwood; Jason Mullen, 32, of Islington, London; Alfie Fitzpatrick, 21, of Solihull, West Midlands; Nicole Vosper, 22, of Newquay, Cornwall, and Sarah Whitehead, 53, of Littlehampton, West Sussex, had waged an international campaign of intimidation against a host of companies to try to force the closure of HLS.
Their victim said: "We ended up with a large section of the local community receiving letters accusing myself and my business partner of running an internet-based paedophile ring.
"[The letters] actually recruited vigilantes to come round and deal with us.
"The main fear was that somebody would actually believe these things and come round at two in the morning to wreak havoc and vengeance."
The animal rights activists never visited his home until he sold it to another family.
He said: "Mistakenly, the people who bought my house were visited by animal rights people who completely wrecked their cars.
"It has made my family very fearful of opening the door. You hear a noise in the middle of the night, is somebody outside painting graffiti on your house?
"Is there going to be a letter bomb pushed through the door, is the house going to be burnt down with you inside it?"
The group's conviction is the result of a lengthy multi-million pound police investigation into the activities of a group of animal rights activists known as Stop Huntingdon Animal Cruelty (SHAC).
Its founding members Gregg Avery, 41, and his then wife Heather Nicholson, 41, both from Hampshire, were jailed in January last year, along with five other people, for orchestrating a six-year blackmail campaign against firms that supplied HLS.
Harris, Tapping, Mullan, Vosper and Whitehead were arrested after police raided addresses across the UK, the Netherlands and Belgium in May 2007.
Fitzpatrick was arrested in March 2008 following further investigations into animal rights extremism.
Although their victim was pleased the activists had been caught, he said he was worried they would become "martyrs to the cause" and others would follow suit.
"Everybody is entitled to their own opinion [but] it's the way it is forced on other people that's creating the problem - not the actual opinions themselves," he said.
"I cannot see it ever stopping - never."
But he and his business partner refuse to be browbeaten.
He added: "We have never thought of giving up.
"As far as we are concerned, we are supplying a valuable service to British medical research."
Related Internet Links
The BBC is not responsible for the content of external sites.