Spending Review: Concern over impact on Hastings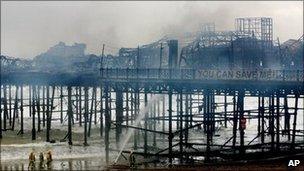 Services and public sector jobs in Hastings will be hit especially hard by the Spending Review cuts, according to the council leader.
Jeremy Birch, leader of Labour-run Hastings Borough Council, said he was very concerned by the 7.1% annual cut in council budgets that was announced.
About 43% of the workforce in the town is employed by the public sector.
But Mr Birch said he was cheered by the fact the Saga Group has announced plans to create 800 jobs in Hastings.
He added: "Cuts as big as this - 7.1% per year for the next four years - in local council spending, for example, will hit public services and public sector jobs and that is very concerning.
"We are concerned because the public spending cuts will have an effect on everywhere but Hastings perhaps especially."
Mr Birch said there was a glimmer of hope and added: "We are cheered by the fact that we were able to attract a major private sector employer, Saga, to come to Hastings with 800 jobs which will have some effect of mitigating the worse impacts of the public sector job losses."
Elsewhere in Sussex, Mary Mears, the Conservative leader of Brighton and Hove City Council, said she broadly welcomed the Chancellor's announcements.
She added: "We've been preparing the ground for the last year in Brighton and Hove to deliver savings of more than £50m over the four years following the Spending Review and we're well on track.
"Of course we will have to wait to see the final detail, but the 7.1% annual reductions as local government's contribution to paying off the national debt are broadly what we were expecting.
"This council is in a good position compared to many others."
The public sector employs about 630,000 people, 15% of the workforce, in Kent, Sussex, Surrey, Hampshire, the Isle of Wight, Berkshire and Oxfordshire.
A recent report by the South East England Development Agency (Seeda) predicted that more than 100,000 jobs could go across the South East, with Hastings, which is very reliant on the public sector, being worst one of the worst hit areas.
The survey estimated that 74,000 public sector positions would be lost but the effect on the private sector would take the number over 100,000.
Related Internet Links
The BBC is not responsible for the content of external sites.