Pilots 'unaware' of safety check on RAF Tornado jets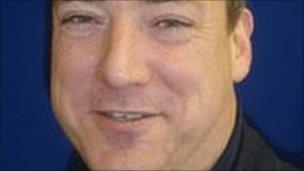 Military flyers were not fully checking a mechanism designed to stop pilots and navigators falling from RAF jets, an inquest has heard.
A coroner was told many RAF and civilian test pilots were unaware there were two stages to a safety check on the seat-locking device.
Mike Harland, 44, of Lincolnshire, who worked for BAE Systems, died when his seat slipped from a Tornado.
It happened on a flight from RAF Marham in Norfolk in November 2007.
The aircraft was flying upside down when Mr Harland's seat became "detached", the inquest has heard.
His body was found in a field in South Creake.
Coroner Jacqueline Lake heard experts concluded Mr Harland died because the locking device had not been properly fitted to his ejector seat.
The inquest, at Sprowston, near Norwich, was told Mr Harland and pilot Mark Williams, who also worked for BAE Systems, were testing the two-seater fighter-bomber following a lengthy service.
Jurors have been told the seat slipped, automatically causing the cockpit canopy to shatter, while the jet was flying upside down at about 450mph and about 5,000 feet.
Mr Williams, 50, a former RAF pilot, told the inquest he had been under the impression that he should check one part of the locking device.
"Training had not revealed that 32 years of misunderstanding," said Mr Williams, who joined the RAF in 1978.
He told jurors that when he realised his "misunderstanding" he conducted a "straw poll" among 30 to 40 flying colleagues.
"Two people knew of the two-part check," Mr Williams told the inquest.
"The rest of the people I contacted had the same opinion as me."
He told jurors that Tornado fliers conducted more than 20 pre-flight checks on each ejector seat.
Jurors saw footage - taken by an RAF camera crew - of Mr Harland carrying out checks on the Tornado's rear seat before the flight in which he lost his life.
He said Mr Harland, of Colsterworth, raised no concerns before take off.
The inquest heard the tail fin had hit the seat as Mr Harland emerged from the Tornado, causing damage which would have prevented either of two parachutes from working.
Related Internet Links
The BBC is not responsible for the content of external sites.