Dartford Crossing toll charge to be increased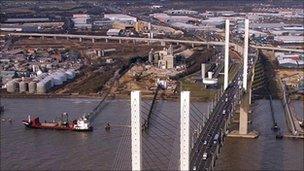 Toll charges are set to be increased for the Dartford Crossing between Kent and Essex, it was announced in the government Spending Review.
Under the plans, the charges could rise from £1.50 to £2 next year for cars, before rising to £2.50 in 2012.
The Department of Transport (DfT) said the money would be used to explore ways of improving traffic flow.
RAC Foundation director Professor Stephen Glaister said motorists would be "very nervous".
Chancellor George Osborne has unveiled an £81bn package of spending cuts in the Commons aimed at tackling the country's deficit.
The Dartford Crossing links the M25 across the River Thames and carries about 150,000 vehicles a day.
The DfT said the increased toll charges would be subject to consultation.
Mr Glaister said: "The 150,000 drivers using the Dartford Crossing each day will be very nervous about the planned hike in the toll, though moves to improve traffic flow might soften the blow slightly."
Paul Carter, leader of Conservative-run Kent County Council (KCC), said the 7.1% annual cut in local authority budgets announced in the Spending Review was in line with expectations.
But he said it would mean belt tightening "the like of which we have never experienced before".
He said it would mean employing fewer public servants and challenges in providing support to elderly people, and residential and nursing care packages.
"We have got to drive down costs and preserve as far as possible our frontline services to a good quality," he said.
He said services such as road maintence would be cut.
"There are big, big challenges ahead," he said.
"We are up for it. The public finances are in such a state that we have no option."
Related Internet Links
The BBC is not responsible for the content of external sites.