Unions predict 30,000 North public sector jobs going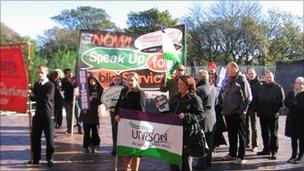 Unions believe around 30,000 public sector jobs in the northern region will be axed because of the spending cuts.
To protest over the losses, Northern TUC members gathered at Newcastle Civic Centre, and Unison members rallied at Sunderland Civic Centre.
Meanwhile, Durham Police also revealed it was axing around 140 staff to cope with an estimated 20% cut in funding.
A statement on its website said the full-time posts would be compulsory redundancies.
"Although Durham will not know until early December exactly how much it will lose from its budget, it's likely that there will still be compulsory redundancies among police staff.
"It could mean up to 140 full-time equivalent posts will go but we are not in a position to give exact figures at this time," it said.
Clare Williams, regional spokeswoman for Unison, said: "Within Sunderland in the public sector we are looking at the possibility of job losses in the region of 2,967.
"The Government cannot ignore the growing body of evidence that their spending cuts are deeply damaging to both the private and public sector.
"There are real alternatives - clamping down on the tax dodgers and getting the banks to pay their fair share towards the recovery by imposing a Robin Hood Tax would raise billions."
Related Internet Links
The BBC is not responsible for the content of external sites.