Police apology over Gordon Brown rubber mask removal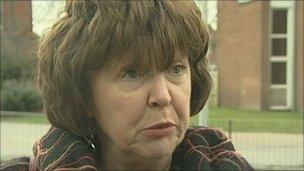 An anti-war campaigner who was hurt when officers forcibly removed a rubber Gordon Brown mask from her face has received an apology and compensation.
Audrey White, 59, from Merseyside, was protesting in Manchester in 2008 when she said she was hauled to the ground, injuring her back and neck.
Her initial complaint was rejected by Greater Manchester Police (GMP) but it has now accepted an error.
In a statement, the force said it wanted to sincerely apologise.
Mrs White, a founding member of Merseyside's Stop the War Coalition, had previously liaised with senior police officers and organised demonstrations.
She was wearing the mask outside the Labour party conference when an officer ordered her to remove it.
When Mrs White declined to do so, two officers forcibly removed the mask, dragging her to the ground in the process, she said.
Ian Southwood, senior claims handler in GMP's Civil Litigation Unit, said: "Regrettably on this occasion, it became apparent that the force had made an error in removing the mask from the woman's face.
"For this the complainant was recently compensated at an amount which was mutually agreeable to both parties.
"We would also take this further opportunity to once again sincerely apologise for any inconvenience caused."
GMP admitted the mistake after her case was taken up by solicitor Iain Gould, of David Phillips and Partners Solicitors.
He said: "Police officers should be properly trained in the use of their powers.
"Our fundamental right to freedom of expression and opinion by peaceful public protest is under threat.
"As members of a democratic society it is vital that we defend it at all costs."
Related Internet Links
The BBC is not responsible for the content of external sites.