Devon and Cornwall Police recorded crime falls by 12%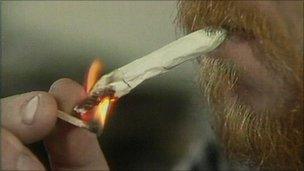 Recorded crime in Devon and Cornwall has gone down by 12% in a year.
Figures issued by the Home Office show the force area has retained its position as the fourth safest policing area in England and Wales.
Over the 12-month period to June, the government statistics for the region show there were 54 crimes per 1,000 people.
Although there were reductions in burglary, vehicle crime and violence, sexual offences and drug crimes rose.
Devon and Cornwall Police said the 15% rise in sexual offences was because of increased reporting due to a better awareness of the support available to victims.
Targeting those involved in drug use and dealing had led to 6% increase in recorded drug offences, a spokesman said.
There were 89,734 crimes recording in Devon and Cornwall between 1 July 2009 and 30 June 2010 - 12,300 fewer than the previous year.
Deputy Chief Constable Shaun Sawyer said it was encouraging to see the force's hard work was having a positive impact on local communities.
"These figures show that Devon and Cornwall remains a safe place to live, work and visit, and that we continue to improve across the board," he said.
Across England and Wales recorded crime fell by 8%.
The public perception of crime and anti-social behaviour in Devon and Cornwall was also lower than the average for the UK, according to the British Crime Survey.
Mr Sawyer said he was aware that more work had to be done to continue to fall in crimes and improve the perception of crime levels.
Across England and Wales recorded crime fell by 8%.
Related Internet Links
The BBC is not responsible for the content of external sites.