Exeter and Norwich 'zombie' unitary plans killed off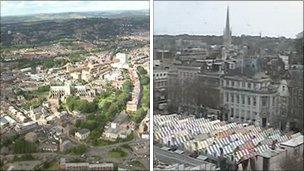 A row has broken out after plans for unitary authorities in Exeter and Norwich were described as an "unwanted and worthless legacy".
Communities and Local Government Secretary Eric Pickles said Labour's plans would have cost £40m.
Despite a High Court ruling blocking the orders, Mr Pickles said the "zombie proposals" still theoretically existed and had to be killed off.
Labour MP Ben Bradshaw said such a move was "shabby" and "vindictive".
"The Conservative/Liberal Democrat Government is treating the people of Exeter and Norwich, two of our greatest English cities, with complete contempt," the Exeter MP said.
"In an act of pure political vindictiveness they are taking away the local autonomy that Exeter and Norwich had at last, after nearly 40 years of waiting, regained.
"The people will not forget their shabby treatment by this coalition."
Mr Bradshaw said a government which claimed to support local democracy, devolving power and passing power down to communities had done "the exact opposite" in its first piece of local government legislation since the election.
Shadow communities and local government secretary Caroline Flint also hit out, claiming the £40m cost quoted by Mr Pickles was "simply not true".
The system of unitary authorities, introduced by the Labour government in the late 1990s, sees areas governed by one local body, rather than responsibilities being shared by a district or borough council and a county council.
Labour had planned to let Norwich and Exeter form their own unitary authorities, with consultations also taking place about the future of local government in Suffolk.
During the Local Government Bill's second reading debate, Mr Pickles said his Labour predecessor John Denham had "chosen to defy common sense" by ignoring independent advice.
"Now he has moved to pastures new, leaving us with this unwanted and worthless legacy," he said.
He described the unitary authority plans as "zombie proposals" that refused to lay down and die.
"Anybody that follows horror movies will realise that the only way to kill a zombie is to sever its head from the body," Mr Pickles said.
"I am here today, shovel in hand, ready to perform - with the help of the House - that very task."
Releasing councillors in Norfolk, Devon and Suffolk from a "legal limbo" would allow them to get on with what really mattered by providing the best possible local services, he added.
But Ms Flint said Mr Pickles had "completely ignored the views of people in Exeter and Norwich and their desire for true localism in their community".
She said the £40m cost was "simply not true", adding that an impact assessment produced by his department showed savings of £39.4m would be made in the same period and in the years after "annual savings of £6.5m would be made."
Ms Flint added that Mr Pickles had "chosen to deny the people of Norwich and Exeter the chance to run their own cities".
Related Internet Links
The BBC is not responsible for the content of external sites.