Huntingdon Life Sciences hate plot campaigners jailed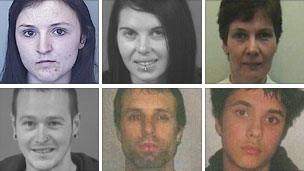 Five animal rights activists have been jailed for intimidating staff at firms linked to a Cambridgeshire animal testing laboratory.
Nicole Vosper, Sarah Whitehead, Thomas Harris, Nicola Tapping and Jason Mullan were jailed for up to six years each.
They admitted targeting staff from the supply firms of Huntingdon Life Sciences with abusive phone calls and threats, Winchester Crown Court heard.
A sixth campaigner, Alfie Fitzpatrick, received a suspended prison sentence.
Fitzpatrick, 21, from Solihull, West Midlands, was given the 12-month sentence, suspended for two years, and told to complete 100 hours of community work after also admitting taking part.
Whitehead, 53, from Littlehampton, West Sussex, was jailed for six years and made the subject of a 10-year anti-social behaviour order, which will begin upon her release.
Vosper, 22, of Newquay, Cornwall, was jailed for three-and-a-half years; Harris, 27, of Ringwood in Hampshire, for four years; Tapping, 29, also from Ringwood, for 15 months and Mullen, 32, from London, for three years.
All four were given a five-year anti-social behaviour order.
The six were all members of a group called Stop Huntingdon Animal Cruelty (Shac).
The court heard how the group waged an international campaign of intimidation against a number of companies to try to force the closure of Huntingdon Life Sciences (HLS).
Homes of staff from the supply firms were targeted with abusive telephone calls while criminal damage and threats of violence were also used to force companies to cut links with HLS.
Realistic hoax bombs were posted to the homes of staff and to offices.
Some company directors had leaflets distributed near their homes falsely telling neighbours they were convicted paedophiles and others had used tampons sent through the post saying the blood was HIV positive.
Others had words like "puppy killer", "murderer" and "scum" daubed on their houses, cars or on the roads nearby.
The abuse would only stop when the company issued a capitulation statement on the Shac website and cut links with the lab, the court heard.
About 40 companies were targeted and the total cost they faced due to damage and increased security was put at £12.6m.
Sentencing, the recorder of Winchester, Judge Keith Cutler, said the well-planned and relentless campaign had been "synonymous with intimidation, violence and terror".
"The action was taken in order to distress and terrify, and in that you were successful," he told them.
Det Ch Insp Andy Robbins, senior investigating officer, said: "We are very pleased with the outcome of today's sentences.
"This was a difficult investigation to conduct over the last five years.
"Victims were intimidated relentlessly, some of them for over three or four years."
Alastair Nisbet, crown prosecutor, said: "These defendants were not legitimate animal welfare protesters but people who were prepared to carry out criminal acts, which tormented and deeply distressed their victims, sometimes over a number of years.
"They threatened and intimidated those who were going about their lawful business because they personally objected to the victims supplying goods and services to Huntingdon Life Sciences (HLS).
"Those who have not been subject to such a campaign cannot understand how harrowing it is to be constantly on your guard against threatening letters and emails, vandalism to your home and car and even hoax bomb threats.
"Or what it's like to have your neighbours and employers told, maliciously and repeatedly, that you are a paedophile."
Vosper, of Bay View Terrace, Newquay, and Whitehead, of Thorncroft Road, Littlehampton, admitted conspiracy to blackmail companies and suppliers linked to the Huntingdon Life Sciences (HLS) between 2001 and 2008.
Harris, of Somerville Road, Ringwood, also admitted conspiracy to blackmail, but he did not enter Shac until 2007, the court heard.
Tapping, also of Somerville Road; Mullan, of Holloway Road, north London, and Fitzpatrick, of Knowle Road, Solihull, all pleaded guilty to conspiracy to harm HLS from 2005 to 2008 by interfering with companies supplying them.