Sentencing of Huntingdon Life Sciences hate campaigners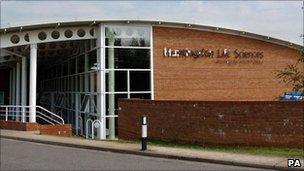 Six animal rights activists intimidated companies linked to a Cambridgeshire animal testing laboratory in an attempt to close it down, a court has heard.
Winchester Crown Court was told they targeted homes of staff from the supply firms of Huntingdon Life Sciences.
Thomas Harris, Nicola Tapping, Jason Mullen, and Alfie Fitzpatrick, Nicole Vosper and Sarah Whitehead have all admitted taking part in the campaign.
The sentencing hearing will conclude on Friday.
The court heard all six were members of Stop Huntingdon Animal Cruelty SHAC.
Michael Bowes QC, prosecuting, said: "SHAC was no more than a front for the criminal activities of the conspirators over a six-year period.
"It's activities were financed largely by donations from members of the public."
The barrister said many who contributed did not know what the money was used for.
Nicole Vosper, 22, from Newquay, Cornwall, and Sarah Whitehead, 53, from Littlehampton, West Sussex, have admitted conspiracy to blackmail companies and suppliers linked to the Huntingdon Life Sciences (HLS) between 2001 and 2008.
Thomas Harris, 27, of Ringwood, Hampshire, has also admitted conspiracy to blackmail, but he did not enter SHAC until 2007, the court heard.
Nicola Tapping, 29, also of Ringwood, Hampshire, Jason Mullen, 32, from London, and Alfie Fitzpatrick, 21, from Solihull, West Midlands, have all pleaded guilty to conspiracy to harm HLS from 2005 to 2008 by interfering with companies supplying them.
The intimidation included homes and offices being targeted with realistic hoax bombs, criminal damage and abusive telephone calls.
Threats of violence were also used to force companies to cut links with HLS.
Some company directors had leaflets distributed near their homes falsely telling neighbours they were convicted paedophiles and others had tampons sent through the post saying the blood on them was HIV positive.
Company directors and staff had words such as puppy killer, murderer and scum daubed on their houses, cars or on the roads nearby.
Related Internet Links
The BBC is not responsible for the content of external sites.