Police officer 'pestered' addict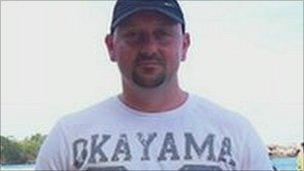 A police officer accused of rape and indecent assault pestered a former heroin addict to go out with him, a court has been told.
Northumbria police officer Pc Stephen Mitchell, 42, of Glasgow, denies five counts of rape, six of indecent assault and 15 of misconduct in public office.
The woman, one of 16 complainants, told Newcastle Crown Court he tried to kiss her in a police interview room.
Later she he placed his hand on her thigh after they met in his car.
The woman said she declined his offer to go somewhere private.
Paul Sloan QC, prosecuting, asked if she reported the incident.
She said: "I didn't think people would believe what I said."
Giving evidence, the woman's daughter said she told her Mr Mitchell "was pestering her" and "wanted to take her out".
Related Internet Links
The BBC is not responsible for the content of external sites.