Father James Robinson conviction hailed as 'victory'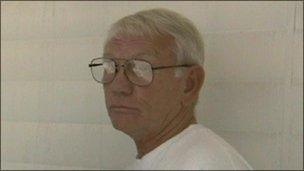 Father James Robinson, 73, has been found guilty of sexually abusing six boys between 1959 and 1983 in the West Midlands.
Robinson fled to the United States in 1985, becoming a Roman Catholic priest in California.
Despite the fact that a police investigation into his activities had begun, he received regular monthly payments of £800 from the Archdiocese of Birmingham, including a cheque for £8,000 for medical expenses.
The payments stopped in 2001.
Robinson was extradited last year. It came about not just because of detective work but thanks to a single-minded campaign led by the victim of another Midlands-based paedophile priest.
The man, who cannot be named for legal reasons, now lives in Scotland.
He said the verdicts were a "victory, but not for me".
He added: "It is for his victims and it does help when someone like Robinson is caught and tried and convicted.
"It is a form of closure these people can now get on with their lives and I know this because of what happened to me."
Born in Coventry, he was brought up in the Father Hudson Home for orphans in Coleshill.
There he was raped by a notorious priest called Eric Taylor who was jailed in 1998.
Taylor attacked a string of boys and Robinson both knew and worked alongside Taylor in the 1970s.
The victim, after giving evidence against Taylor, set out to force the authorities into targeting Robinson.
He wrote hundreds of letters to MPs, government ministers and chief constables. He compiled dossiers of evidence which either lay untouched or were even lost.
After the BBC investigation programme Kenyon Confronts tracked Robinson down to a trailer park in Los Angeles in 2003, the police began to take more notice of the campaign.
His official complaints about police inaction led in 2007 to the West Midlands force admitting that it had failed to investigate the Roman Catholic Church in respect of the Robinson case.
However, the force said it had not failed to extradite Robinson because a treaty had not been in force.
His victim has now accused the Roman Catholic Church of covering up Robinson's abuse and aiding him while he was in the United States.
"The Archdiocese of Birmingham were paying a stipend to this guy monthly while he was a fugitive in America," he said.
The Roman Catholic Church has always denied the allegations of a cover-up but said it had given the police support and help with its investigation.
Related Internet Links
The BBC is not responsible for the content of external sites.