Prison officers in 'phone smuggling scam'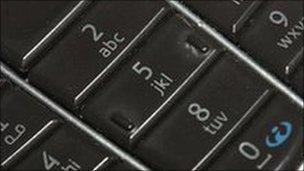 Prison officers are earning thousands of pounds smuggling mobile phones into jails, a BBC Inside Out investigation has revealed.
More than 500 phones were confiscated from prisoners in Kent and Sussex in 2009, a Freedom of Information (FOI) request has revealed.
The BBC spoke to one man who claimed he supplied four prison wardens with mobile phones to pass on to inmates.
The Prison Service said security procedures were being strengthened.
The source claimed he regularly arranged lucrative payments to South East prison officers in return for them passing on handsets to prisoners.
He said: "The warden will come and pick up the phone from me and I give them cash or put the money in a bank account. You could get a phone into prison within two days."
Former prison officer, Jeff Kelly said he never smuggled mobile phones into jail but he could see why some wardens were tempted.
"A warden can earn anything between £500 and £2,000 for each phone they bring in, depending on the need and security of a prison," he said.
"They [the prison officers] are searched but searching will only happen at certain times. Because of the extreme cutbacks within prisons they've reduced the amount of searches that go on.
"It will be more targeted searching. If they feel they are being targeted they will place the item on another prison officer."
Sussex Police said inmates could use the mobile phones to commit serious crimes.
Det Supt Glenn Jones added: "Phones are being used to organise drug supply and human trafficking.
"They can also be used to intimidate witnesses.
"It's only now that concerted efforts are being made to prevent the entry of phones into prisons, and they are actively going out and searching for these phones.
"I think it's taken a while to establish just how big the problem is."
A Prison Service spokesperson said: "Prisons utilise effective intelligence gathering and robust local security and searching strategies to address the risk that mobile phones present to the safety and security of prisons.
"A range of technology has been rolled out to prisons to strengthen searching and security, including mobile phone signal detectors, and Body Orifice Security Scanners (BOSS chairs) and high sensitivity metal detecting wands which can detect internally concealed items."
Viewers in the South East can see more on Inside Out on BBC1 on Monday at 1930 BST.
Related Internet Links
The BBC is not responsible for the content of external sites.