Probe reveals failings in high-rise flats fire safety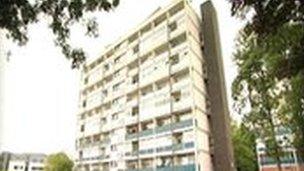 The majority of Birmingham's 224 tower blocks are in need of fire safety remedial work, the BBC has discovered.
One tower block, Bakeman House, has been refurbished at a cost of £4.7m but an inspection revealed that every fire screen in the common parts of the block would fail, allowing flames to spread.
Birmingham City Council told the BBC that fire safety work in 64 of its tower blocks will be completed by the end of the financial year - including at Bakeman House.
Last year, six people died when fire spread through the 12-storey Lakanal House in Camberwell, London. That block had been refurbished under the government's Decent Homes programme.
"There is very credible expert evidence in the Lakanal House fire case, that the renovation works did not comply with fire safety, and that that's why people two floors above where the fire broke out lost their lives, after being told by the fire service that they would be safe," said solicitor Louise Christian, who represents victims of the fire.
"An inquest in two or three years' time in Lakanal House is just not enough. We need a public inquiry to look at the systemic failure," she added.
BBC Inside Out has discovered that the government was so concerned about fire safety in high-rise blocks that it wrote to all local authorities requesting fire safety checks on all high rises.
Many tower blocks are more than 50 years old - and some have become outdated, run-down and in a state of disrepair.
Among the blocks visited by the BBC team was Douglas House in Coventry, to test fire safety with fire surveyor Arnold Tarling.
There was no immediate risk of fire at Douglas House, but Mr Tarling found breaches in fire safety legislation.
The block is run by Whitefriars Housing, who told the BBC: "Our customers' safety is our chief concern. We have conducted in-depth fire risk assessments three times in the past year.
"We are satisfied that these blocks meet appropriate safety levels. In each case the assessments, with the fire service in attendance, identified that there are no significant fire safety concerns with these blocks.
"As is always the case, there will be ongoing repair requirements which we will continue to deal with as and when they occur."
A government spokesman said: "Fire safety in high-rise buildings is a matter of great concern to the thousands of people who live in them and the government takes this issue very seriously.
"The Decent Homes programme has also improved the quality and safety of social housing by requiring that homes should be free from serious health and safety hazards, including fire."
See reports on BBC Inside Out West Midlands and BBC Inside Out East on Monday 25 October at 1930 BST.
Related Internet Links
The BBC is not responsible for the content of external sites.