Couple jailed for sham marriage to stay in UK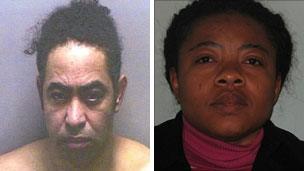 A couple who had never met before exchanging wedding vows in Northampton have been jailed after admitting breaking immigration laws.
Jose Castanheira, 36, the Portuguese groom, and Daureen Emeka, 37, the Nigerian bride, will also be deported.
Emeka paid Castanheira £750 to marry her so she could stay in the UK. He was already married to a Cameroonian woman who had paid him £3,000 to marry her.
Castanheira had also arranged a sham marriage in Bristol for £500.
An investigation by the UK Border Agency found that Castanheira used 13 different aliases during his time in the UK.
Castanheira pleaded guilty on 10 September to facilitating illegal immigration by helping organise the sham marriage between another Portuguese-Nigerian couple, at St Bartholomew's Church, in St Andrews.
That couple, who were charged and bailed, have disappeared and are wanted by the UK Border Agency.
Castanheira also admitted: marrying the two women so they could stay in the UK; bigamy; providing false documents to support the immigration application of his Cameroonian wife; and providing his employers in Leicester with false documents to pretend he was Joao Santos.
He was sentenced to two years and eight months' imprisonment.
Emeka was jailed for 12 months. She had pleaded guilty at Snaresbrook Crown Court on 27 August to obtaining leave to remain by deception.
Zaira Munsif, who led the UK Border Agency's investigation, said: "People should not be under the illusion that a sham marriage is a ticket to permanent residency in the UK. It's not.
"We will, at any stage before, during or after a suspected sham wedding, take action to ensure people can't put down roots in Bristol, or the rest of the country, without permission to do so."
Related Internet Links
The BBC is not responsible for the content of external sites.