Teenager, 16, shot dead by 'masked gunmen' in Plaistow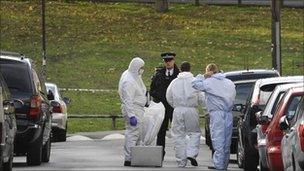 A boy of 16 has been killed by masked gunmen in east London, police said.
The boy, locally named as Samuel Adelagun, was shot in the upper left chest. He was pronounced dead at the scene in Chesterton Road, Plaistow.
Police also found a boy of 15 who was shot in the abdomen. He remains in hospital in a stable condition.
Officers believe two balaclava-clad gunmen opened fire on a group of four youths, aged 15 and 16, from behind. No-one has been arrested.
Metropolitan Police said 16 teenagers have been killed in London this year. Five of them were shot.
The Met said both the victims were known to the police and officers are investigating to find out if the incident was gang-related.
Police said the shooting took place in parkland at the junction of Upper Road and Chesterton Road.
A Met statement said the group of four friends were in Upper Road when "two gunman appeared behind them and began firing. Approximately four shots were discharged".
All four youngsters ran away and then re-grouped in the area and sought help from a local resident.
It is not known if the suspects arrived or departed from the area in a vehicle, police said.
Det Ch Insp John Mackenzie said: "A number of shots were discharged and the youths dispersed.
"They then got together again outside Chesterton Road."
He said the teenagers knocked at a house whose owners "provided some shelter as good Samaritans".
"In there unfortunately one of the youths died and one was taken to hospital with a gunshot wound to the abdomen."
He added: "Shooting incidents are still rather rare in London. We are working with the community and asking the community to help us to come together to solve this.
"The mother (of the deceased) is very distraught as you would expect. It is a traumatic and violent way for a loved one to go."
A post-mortem examination will take place on Sunday after which the boy will be formally identified. The next of kin have been informed, police said.
Tributes have been left at the scene by several people. One read: "To Sammy, one of the realist young bucks. Gone but never forgotten. 100% love. Liam."
Another message read: "RIP Sammy. Realist soldier. GBNEF."
People living in the area said they were shocked by the fatal attack.
Odia Wabenga, 48, of Florence Road, said: "It is shocking. I have lived here for almost 20 years.
"I have a young son who is nine and I feel very bad if things start changing like this, it's no good," the mother-of-four said.
Mohammad Chowdury, 27, also of Florence Road, added: "Normally nothing like this happens around this area.
"I have been living here for 20 years and we have had no trouble."
Related Internet Links
The BBC is not responsible for the content of external sites.