Plans to close courts in Devon and Cornwall 'not final'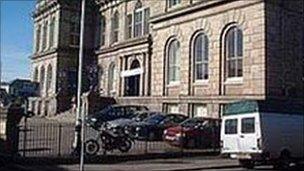 Plans to close a number of local courts will not be finalised without taking account of public concerns, the Justice Secretary Ken Clarke has told the BBC.
Mr Clarke commented during an event in Totnes, Devon, to mark the retirement of the town's former MP, Anthony Steen.
Seven courts in Devon and Cornwall face closure under Ministry of Justice plans.
The public consultation ended in September and a final decision is expected by the end of the year.
Mr Clarke said: "We won't announce any definite closures until we're satisfied that we've listened to everything that local people have said and see whether they raise some case for keeping the courts open.
"No doubt that will happen in some cases."
But Mr Clarke also warned that the geographical location of some courts would not be enough to keep them open:
"Closing a court is not like closing a post office.
"Most people only go into a court once or twice in their lives... you should be prepared to travel," he said, adding, "I do realise that in rural areas you've got to think hard about how people are going to have sensible access to courts when they need them."
In Cornwall, the courts which could be shut are Liskeard Magistrates, Camborne Magistrates, Penzance Magistrates and Penzance County Court.
In Devon, Newton Abbot Magistrates, Totnes Magistrates and Honiton Magistrates may close.
In total, 103 magistrates' courts and 54 county courts could be axed in England and Wales.
Closing them would save the government an estimated £15m a year in running costs, plus £22m in maintenance of the buildings.
Earlier this month the Cambridge law academic John Spencer QC warned that closing local courts could be a false economy because people may not be able to get to court, leading cases to be adjourned.
Related Internet Links
The BBC is not responsible for the content of external sites.