Armed police to shadow cash vans across North West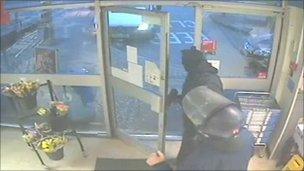 Armed police are to escort cash transit vehicles across north-west England as part of a crackdown on robberies.
The operation is being carried out in the run-up to Christmas when the number of armed robberies reach their peak.
Last year, 78 people were convicted of armed robbery in the region and police said they were determined to further reduce the number of such crimes.
Det Ch Supt Simon Leach, leading the operation, said there would be "no hiding place" for criminals.
According to Titan, the regional police force collaboration to tackle serious and organised crime, the number of cash in transit robberies is down 58% compared to last year.
"The success we've had in arresting and convicting these offenders should be a warning to anyone thinking of committing this type of crime, there is no hiding place for them and they risk spending Christmas behind bars," said Mr Leach.
"However, there are still too many innocent victims suffering at the hands of criminals who do not hesitate to use violence.
"With Christmas approaching - traditionally one of the busiest times of year for this type of crime - we are determined to keep our communities safer by targeting, deterring and disrupting criminals who carry out cash-in-transit attacks and robberies of commercial and financial premises."
Geoffrey Gilburt, 64, of Stockport, is a security guard who delivers cash to stores across the North West. In just eight years he has been attacked and threatened five times.
Describing his ordeals he said: "I don't want to do it again. I've had enough of it now. The violence they used was over the top.
"I remember when I returned to work after the last robbery, I went into a shop when somebody was delivering bread banged on the door.
"My heart started racing but it was actually just somebody making a delivery. I couldn't go back again. You can't really imagine what it was like."
Officers from Greater Manchester, Cheshire, Merseyside, Lancashire, Cumbria and North Wales are working with the British Security Industry Association (BSIA) on the campaign.
As well as armed escorts for high-risk deliveries, police will increase their use of CCTV, send out patrol cars with some security vans and use force helicopters to shadow deliveries.
Related Internet Links
The BBC is not responsible for the content of external sites.