New bridge over Thames 'should link with M11' in Essex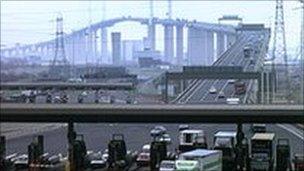 A proposed new bridge across the River Thames should be built to the east of Gravesend in Kent and link up with Chadwell in Essex, a study has found.
Consultants commissioned by Kent County Council (KCC) said the new £1bn Thames crossing should carry traffic direct to the M11 in Essex rather than the M25.
Drivers would pay to use the new bridge, but half the costs would come from tolls at the Dartford crossing.
KCC said it hoped to have a clear idea of when work might start by next year.
"We are now a lot closer than we have been," said councillor Nick Chard.
"There is clarity from the county council and from the community that we need another crossing.
"The debate now is where that crossing should be and the county council has said very clearly that it should be east of Gravesend, not least because of the regeneration effects it could have in that area."
The Labour government announced last April that options for a new road bridge were being considered to ease congestion at Dartford.
Last week's government Spending Review included plans to increase the Dartford toll for cars from £1.50 to £2 next year, then £2.50 in 2012.
Three possible sites have been identified for the new bridge, one at the site of the existing Thames crossing and two at points further east.
KCC has published the consultants' findings as part of its future transport plan.
It has said the crossing, which could generate 6,000 jobs in north Kent and south Essex, would be built by a private company.
"It is a long project, but I would hope that by this time next year we would have a very clear steer about where it was going to be and when it was likely to be started," said Mr Chard.
Related Internet Links
The BBC is not responsible for the content of external sites.