'Concern' over Devon and Cornwall police cuts plan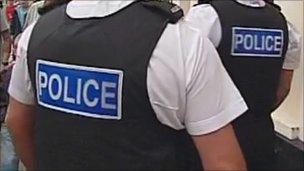 Devon and Cornwall's Police Federation has urged the chief constable to "look again" at plans to cut 700 officers.
The move was announced in the wake of the government's Spending Review.
But the federation, which represents the 3,500 police officers in the Devon and Cornwall force, said it had "genuine concerns" with the strategy.
It said it could not see how operational efficiency could be maintained by such a "drastic cut".
Spending on the police is to fall by 4% a year for four years, Chancellor George Osborne announced last week.
Devon and Cornwall's Chief Constable Stephen Otter said at the time that the reduction in officer numbers would be through retirements and a recruitment freeze.
He said everything was being done to maintain the visibility of officers and the force was coming up with ways of working differently to protect services.
But Nigel Rabbitts, Chairman of the Devon and Cornwall Police Federation, said: "We cannot see how operational efficiency, operational resilience and, in the long term, financial savings, will be met by such a drastic reduction in police officers.
"We believe the constabulary will stagnate with no new talent being brought into the organisation, career paths will be blighted and and the ability to respond to dynamic incidents damaged by a lack of mobility of staff."
He also said that because the force covers such a large geographical area the loss of 700 officers would create "massive managerial challenges".
The force employs about 3,500 police officers and another 3,000 support staff.
Overall, it is predicted 1,000 jobs will be cut.
Mr Rabbitts urged the chief constable to look again at the balance in staff reductions between police officers and support staff.
Related Internet Links
The BBC is not responsible for the content of external sites.