Anger over revised plans for airport on Hoo peninsula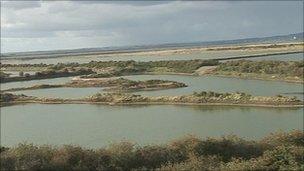 Campaigners against a new airport in Kent have expressed anger that seven years after winning a fight against the plan it is now being reconsidered.
A review by the Mayor of London, Boris Johnson, is to look at the option of developing the proposed site at Cliffe, on the Hoo peninsula.
He wants to increase flight capacity around London, but not expand Heathrow.
Medway Council leader Rodney Chambers said it was an "obscene plan" that must never be allowed to get off the ground.
In 2002, a new airport at Cliffe was one of several options being considered by the government for airport expansion in the South East.
However, in December 2003, the government decided to leave Cliffe out of its airport expansion plans.
The site is renowned for its populations of wintering birds, while in summer it is an important breeding ground for birds such as avocets, marsh harriers, Mediterranean gulls and little terns.
Mr Chambers, the council's Conservative leader, said: "I am furious that this unwelcome proposal to concrete over the Hoo Peninsula to create an international airport is back on the table.
"We successfully fought proposals to build an airport on green fields and internationally important wetlands in Medway and we will do so again."
He urged the MPs of Medway and north Kent to declare their opposition to the plan, and called on the coalition government to "unequivocally" rule it out.
"Medway fought the last government's proposals for this and we will fight once again.
"We were right last time and we will be right again," the councillor said.
A spokesperson for Mr Johnson said whatever conclusion was eventually reached, it was "vital that a location for extra runway capacity is found for London to remain one of the leading world cities".
Related Internet Links
The BBC is not responsible for the content of external sites.