South central ambulance ran out of fuel on 999 call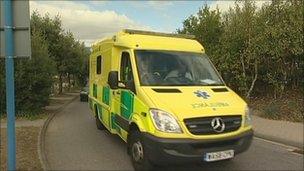 An ambulance ran out of fuel on a 999 call and an emergency driver was sacked for giving revellers a lift home in Berkshire, the BBC can reveal.
They were two of 29 serious incidents reported by South Central Ambulance Service (SCAS) last year, released under the Freedom of Information Act.
A patient was also hurt falling off a stretcher as an ambulance drove away.
The ambulance service said it was a relatively small number of incidents and it would learn from mistakes.
SCAS said there was a faulty fuel gauge on the ambulance which ground to a halt in December 2009 and the patient who was injured in the ambulance in March this year had not been strapped in properly.
The Rapid Response Vehicle driver who gave revellers a lift on a night out in Reading was working for a private firm and has since been sacked, SCAS said.
In another incident, residents in Oxfordshire could not get through on an out of hours phone number for more than two hours after the software program used to activate the line failed on the morning of Saturday, 10 April this year.
The ambulance service, which covers Hampshire, Berkshire, Buckinghamshire and Oxfordshire, said these 29 incidents came from more than 400,000 emergency calls it deals with each year.
In a statement SCAS said: "We take very seriously any incidents or issues where something untoward is reported to have happened and always strive to prevent any recurrences.
"One incident is considered one too many, but it is also imperative that these figures are taken in context in relation to the number of calls that the trust deals with."
Related Internet Links
The BBC is not responsible for the content of external sites.