Yorkshire scrap metal thefts 'cost £570,000'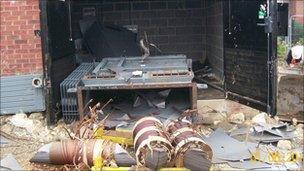 An electricity firm has revealed that replacing stolen scrap metal in Yorkshire has cost it £570,000 since the beginning of the year.
CE Electric UK told BBC News it was facing an average of 25 metal thefts every week from its network.
Sheffield, Doncaster, Rotherham, Bradford and Leeds are among the hot spots identified.
The company's safety chief has warned thieves they risk losing their lives and putting those of others in danger.
Figures released by CE Electric revealed that their Yorkshire distribution area, which includes West, South and East Yorkshire, has cost the company £570,000 since January 2010.
This is compared with £243,000 for the same period in 2009.
The company said it believed an increase in copper prices may be fuelling the number of metal thefts.
Recent incidents include the theft of copper at two electrical substations in Sheffield which caused power problems for 371 customers.
One person also suffered a non life-threatening electric shock as a result of the incident on 16 October.
In August a thief attempted to cut through an electricity cable running over a bridge in Leeds using a hacksaw.
The incident resulted in the offender suffering severe burns.
In East Yorkshire, 11,000 customers were left without power after 120m of copper was stolen from a substation at Driffield.
CE Electric's head of safety, Paul Norton, said: "Our message to metal thieves is simple: try to steal our metal and you risk your life. The thieves are also leaving sites in an unsafe, sometimes dangerous condition for any members of the public who may be in the vicinity."
Meanwhile, British Transport Police are calling for tougher powers to tackle the growing problem of metal theft.
There have been more than 5,000 such thefts from the railways and the gas and electricity networks this year.
Related Internet Links
The BBC is not responsible for the content of external sites.