Facebook murder mother seeks answers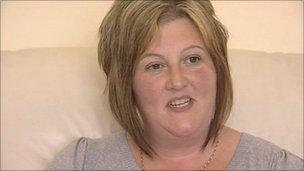 The mother of a Darlington teenager who was raped and murdered by a man she met on Facebook has said she is still waiting for answers a year later.
Ashleigh Hall, 17, was murdered in 2009 by Peter Chapman, who she met online.
The Independent Police Complaints Commission (IPCC) is carrying out two investigations into the police's monitoring of Chapman.
Andrea Hall said the family had still not had time to grieve properly while the investigations were still going on.
She said she had believed they would be completed by the first anniversary of Ashleigh's death.
"I thought that it would all be sorted and then we could move on a bit," she said.
"We will never move on but we could try to put it into perspective a bit. But now I have got to wait and deal with all that side as well."
She questioned the monitoring of Chapman and why he had not been stopped.
"Why wasn't he stopped, why did it take till after he had done what he did to arrest him?"
The last year had been a real strain on the family, she said.
"I haven't had time to think what really did happen. I still ask the same question every single day - why?
"I will never know why. But we haven't had time to grieve as a family because there is so much going on."
One of the IPCC's investigations is into how Merseyside Police monitored Chapman, who was on the sex offenders' register. It said the inquiry was nearing completion.
The second inquiry is into how Automatic Number Plate Recognition intelligence on Chapman's car was dealt with by Durham, Cleveland and North Yorkshire Police.
The IPCC said that investigation was finished and it was waiting for the completion of the other inquiry before publishing its findings.
An IPCC spokesman said: "We are conscious that Ashleigh's family have lost a much loved daughter and sister in horrific circumstances.
"We have kept in regular contact with Ashleigh's mother to inform her of progress in the investigations.
"We are anxious to ensure that we complete thorough investigations to ensure any possible lessons are learned."
Related Internet Links
The BBC is not responsible for the content of external sites.