Wildlife to benefit from trackside conservation project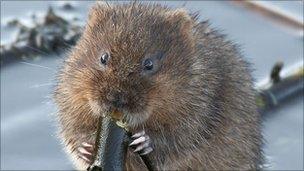 Water voles and rare marsh plants in Kent and East Sussex are set to benefit from a railway conservation project.
The work will take place over the next few weeks in the Dungeness, Romney Marsh and Rye Bay Site of Special Scientific Interest (SSSI).
Vegetation will be cleared and the ditches re-profiled to enhance the trackside watercourses.
Natural England said the scheme would create an environment where wildlife could thrive.
The work, with Network Rail, will take place along the tracks at a site in Rye and two sites at Appledore.
Natalie Smith, a local conservation adviser from Natural England, said: "Vegetation clearance like this is necessary to manage the SSSI. It will help keep the sites healthy and attractive for the wildlife they support."
Work to improve the ditches along the track at Rye will start in the next few weeks.
Once completed, vegetation clearance and ditch works will start at the Appledore sites.
When the work is complete, marsh mallow plants will be planted along the ditches to increase the coverage of this rare plant in the area.
Water voles, medicinal leeches and the greater water parsnip are just some of the other rare species which will benefit.
Dave Ward, Network Rail's route director for Kent, said: "We have thousands of miles of railway across the country making us one of Britain's biggest landowners.
"As well as running a safe and reliable railway, we are committed to protecting natural resources and conserving biodiversity on our land."
Related Internet Links
The BBC is not responsible for the content of external sites.