BBC Crimewatch to show Kent shop theft suspects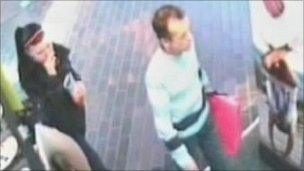 A BBC Crimewatch appeal is to feature footage of two people suspected of stealing goods worth thousands of pounds from shops in the South East.
The images were taken in Hempstead Valley shopping centre in Kent where designer polo shirts were stolen.
The pair are also sought for suspected thefts in Essex, Cambridgeshire, Suffolk and Sussex.
Goods with values between £300 and £1,324 were taken in the 13 separate store thefts over the last 12 months.
Det Con Maxine Smyth from Kent Police said: "We are keen for these two people to be identified as we believe they will be able to help with our enquiries.
"There have been a number of thefts at stores across the South East and we are keen to put a stop to them."
Kent police have said other offences took place in Southend, Lakeside shopping centre, Cambridge, Bury St Edmunds and Chichester.
Anyone with information is asked to call Kent Police or CrimeStoppers.
The footage will feature on the BBC's Crimewatch programme to be shown at 9pm on Tuesday.
Related Internet Links
The BBC is not responsible for the content of external sites.