Former addict tells of 'Northumbria Pc rape ordeal'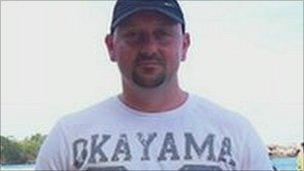 A policeman raped a young mother then threatened to ruin her life if she told anyone, a court has heard.
Northumbria police officer Stephen Mitchell, 42, of Glasgow, denies five counts of rape, six of indecent assault and 15 of misconduct in public office.
The former drug addict, one of 16 complainants, wept as she told how he would locked her in his car.
He would then subject her to a series of "horrifying" attacks because she "owed him", the court heard.
She begged to be left alone, but she said the Pc said she owed him after he gave her money for heroin, the trial at Newcastle Crown Court heard.
He also said he would plant drugs in her home and make sure she never saw her children again if she reported him, the jury was told.
The woman, who cannot be named for legal reasons, said she met Mr Mitchell when she was released from prison in 2001 after serving a sentence for theft.
But within days he was supplying her with heroin and subjecting her to "savage" attacks, the hearing was told.
In December 2002 she said he arrested her for failing to attend Gateshead Magistrates' Court, then raped her.
She told the court: "He said he wanted to have sex and that it would be the last time.
"I was shouting for him to let me out of the car, just screaming and shouting at him to let me go.
"He said if I told anybody, nobody would believe me because I was just a dirty junkie and I would never get my children back."
Related Internet Links
The BBC is not responsible for the content of external sites.