Bonfire Night firefighter strike talks break down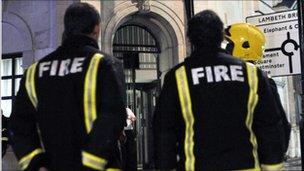 Talks aimed at averting a strike by London firefighters on Bonfire Night have broken down.
On Monday, the Fire Brigades Union (FBU) announced plans for a 47-hour walk out starting on 5 November in a row over contracts.
Prime Minister David Cameron called the strike plans "irresponsible".
But the FBU walked out of talks, saying the London Fire Brigade had offered nothing new. The LFB said compromise was achievable.
An FBU spokesman said: "Regrettably, the brigade representatives in attendance had nothing new to say to us.
"The authority's proposals on new working hours would seriously disrupt firefighters' family lives and lead to cuts in fire cover."
London Fire and Emergency Planning Authority Chairman Brian Coleman said: "Compromise is achievable through talks, and the FBU have today walked away.
"Our message is simple - call off the strikes now and meet us on at the panel which has the ability to resolve this dispute.
"The continuing determination by the FBU to take strike action is unnecessary, unjustified and will be viewed unsympathetically by Londoners."
Thousands of FBU members are due to walk out from 1000 GMT on 5 November until 0900 GMT on 7 November.
Mr Coleman had asked the FBU to call the strike off, saying it would be the "busiest time" for the brigade.
The Hindu, Sikh and Jain festival of lights, Diwali, also occurs on 5 November.
The union said the dispute was about plans to scrap current rotas and force staff to sign new contracts.
FBU general secretary Matt Wrack said: "We do not want to take this action but we have no choice.
"The alternative is to allow London's firefighters to become doormats for their employers to walk on."
London Fire Brigade said changes were needed so the public would remain protected while budgets were reduced.
Labour leader Ed Miliband's spokeswoman said it would be "dangerous" for firefighters to walk out on Bonfire Night.
Last week, the FBU revealed that 79% of its members who had voted supported strike action.
Crews staged an eight-hour strike on Saturday and another is planned for Monday 1 November.
Related Internet Links
The BBC is not responsible for the content of external sites.