Uncertainty over North East transport plans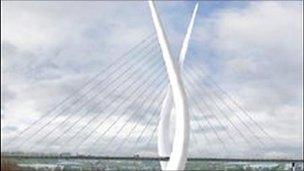 Business leaders and politicians say they are concerned over uncertainty about transport schemes in the north-east of England.
Transport Secretary Philip Hammond announced which projects the government would be supporting.
Among those which will have to bid for funding, will be reviewed or put back, are the Sunderland Strategic Corridor, upgrades to the A19 and A1 dualling.
Concerns have been raised about the impact on economic growth.
Mr Hammond announced a pot of £600m and invited bids from a range of projects but said only about half would be funded.
Among them is the Sunderland Strategic Corridor, which includes a bridge over the River Wear.
Labour Houghton and Sunderland South MP Bridget Phillipson said: "I think it's important that we continue to press the case for what it means in terms of jobs and economic regeneration of the region."
North East Chamber of Commerce Sunderland committee chairman Gary Hutchinson said the "deep-freeze" of the bridge was a concern.
There will be further analysis of schemes including the Northern Gateway, in North Tyneside, Sunderland Central Route, Morpeth Northern Bypass and Tyne and Wear Bus Corridor Improvement.
Work on the A19 at Testos and A19/A1058 Coast Road Junction will not start until after 2015.
North East Chamber of Commerce chief executive James Ramsbotham said: "Businesses have been clear that the top priority for transport investment was the A19 around the Tyne Tunnel, and this was backed up by analysis showing it provides massive economic benefit.
"The government has ignored this and walked away from an opportunity to invest in the future economic growth in the North East.
"Once again millions of pounds will be pumped into roads around the country which are already of a standard which far exceeds our region's network."
When asked by Berwick Liberal Democrat MP Alan Beith about the A1 dualling , Mr Hammond said it was "some way off."
Related Internet Links
The BBC is not responsible for the content of external sites.