Call for extradition shake-up over Crete attack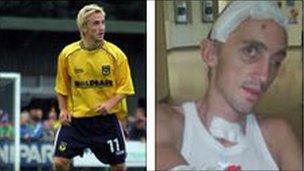 A Surrey MP is calling for an overhaul of the European Arrest Warrant system following the extradition of three of his constituents to Greece.
Five men, from Surrey and Sussex, returned to the UK in August on bail several days after appearing in court in Greece.
They all deny stabbing ex-Oxford United player Robert Hughes, 28, of Croydon, outside a Crete nightclub in 2008.
Surrey East MP Sam Gyimah secured a parliamentary debate on the issue.
Mr Gyimah issued a statement which said there were not enough safeguards to ensure people are not sent to foreign prisons under foreign laws without good reason.
He said: "Of course we must not forget the victims in these situations but - irrespective of innocence or guilt, the nature of the alleged crime or indeed nationality - certain standards must be maintained regarding the treatment of prisoners.
"That is as much a part of the British justice system as the final verdict handed down, and we should expect our treaty partners to adhere to these same values."
He added: "We must be careful that the long held, much cherished British value of 'innocent until proven guilty' is not swept under the carpet as simply the price you have to pay for international co-operation.
"Every time a year of a young person's life is lost because of something that someone somewhere claims to have seen happen sometime, we lose faith in this process as proper tool of justice."
Mr Hughes was left in a coma and had to undergo three life-saving brain operations following an attack.
Ben Herdman, 20, from Worth, West Sussex, George Hollands, 22, from Reigate, Surrey, and Curtis Taylor, Daniel Bell and Sean Branton, all 20 and from Horley in Surrey, were extradited to Greece in August.
They were allowed to leave Crete after being bailed by a court on the island and depositing sureties of between €3,000 (£2,480) and €12,000 (£9,921).
A trial is not expected to take place until at least 2011.
The men were detained under European arrest warrants in December after declining an offer to return voluntarily to Greece.
Related Internet Links
The BBC is not responsible for the content of external sites.