Britain's longest serving Asian police officer retires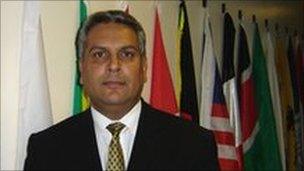 It's a career that took a fresh faced 17-year-old cadet with Thames Valley Police in 1975 to the country's elite anti-terrorism branch.
Along the way he has protected the royals and senior MPs, and worked on the drugs squad.
Now 52-year-old Detective Constable Harinder Singh Sangha is hanging up his truncheon after 35 years service.
"I have had a fantastic career. There's been a few lows. But lots of highs," he said.
It's rare for anti-terrorist officers to give interviews. But Asian colleagues and the Metropolitan Police Sikh Association (MPSA) encouraged Det Cons Sangha to go public because of his ground-breaking career.
"He has been the first in many things and is a good role model," said Det Sgt Gurpal Virdi of the MPSA.
"He is part of our history and he has to be recognised.
"I think other youngsters will see what he has done and because of that will probably join the police service."
However, father-of-two Det Cons Sangha is quite modest about his achievements.
"I am proud but as you can tell I am quite shy as well," he said.
He was the first ever Asian to join Thames Valley Police after signing up at a recruitment fair in the 1970s.
"I was only seventeen. I didn't realise I was the first. All I remember was feeling very nervous," he said.
His parents supported him in his career choice and he still fondly remembers his father's words of advice as he dropped him off on his first day at work.
"He told me to make sure you are 110 per cent whiter than white and don't disgrace the family," laughed Det Cons Sangha.
His hard work and dedication was soon noticed by his seniors and he was promoted to CID in 1982. In doing so he became one of the country's first Asian detectives.
His easy-going manner also won him lots of friends as did his love of sport and beer.
Over the years Det Cons Sangha has seen many changes. One of the biggest shake-ups followed the Stephen Lawrence inquiry.
Its recommendations included mentors for ethnic minority officers. It's something he believes he personally would have benefited from enormously during his early years with the force.
"When I joined I didn't have anybody to look up to. I had to rely on friends I joined with or people who were around who I trusted," he said.
Despite that his career blossomed and he eventually joined the capital's team of firearms officers.
"Someone said to me there's vacancies going, how about it? I said I'll think about it. They said no you'll be very good at it. So I applied, got an interview and the rest is history," he said.
The risks linked to working as a bobby on the beat or as an armed officer have brought pressure.
Det Cons Sangha admits his family have fretted over his safety. "I never brought my work home or spoke about it to my parents cos they always worry about what you do.
"On top of that you may say something to somebody and you never know who may be listening," he said.
The police now recognises it had a problem in the 1970s and 80s with racism within its ranks. Det Cons Sangha says he was lucky and escaped the abuse given to some ethnic minority officers.
"The police today is very different from what it was like back then. It's now got some of the best practices. There's still things that need to be done. But we're going in the right direction.
"You are going to get your die-hards who are not going to accept the cultural changes in the country. But I think it has improved a hell of a lot," he said.