Boyfriend convicted of murdering toddler Violet Mullen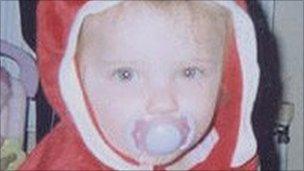 A man has been found guilty of murdering his partner's 15-month-old daughter in Greater Manchester.
Gary Alcock, 28, had denied murdering Violet Mullen. His girlfriend Claire Flanagan, 22, was convicted of causing or allowing her daughter's death.
Violet suffered "catastrophic internal injuries" in the weeks before her death, prosecutors said.
The couple, of Huddersfield Road, Oldham, will be sentenced at Manchester Crown Court on 18 November.
Paramedics were called to the family home on 12 January and rushed Violet to the Royal Oldham Hospital where she was pronounced dead. She had suffered a cardiac arrest.
Doctors were concerned about bruising on Violet's face and body and alerted the police who arrested Alcock and Flanagan on suspicion of murder.
She had been stamped on, kicked or punched on at least three separate occasions, the court heard.
Alcock, who had been violent to a previous girlfriend, moved into Flanagan's home last year, the court heard.
She claimed during the trial she had not known Alcock had attacked her daughter, but said all the evidence had pointed towards him having done it.
Judge Clement Goldstone, presiding over the trial, said she was "not at the front of the queue when it came to being given observational powers".
Vanessa Thomson, senior Crown advocate for the Crown Prosecution Service, said: "Violet sustained in excess of 35 separate injuries including multiple bruises, rib fractures, brain damage and catastrophic internal injuries.
"In the opinion of the Home Office pathologist, Violet must have been subjected to a severe blow or blows delivered in the form of punches, kicks or stamps."
Ms Thomson added: "Claire Flanagan, Violet's mother, ignored the obvious signs of abuse and failed her wholly dependant daughter by doing so.
"This has been a tragic case which has had a devastating effect upon all of those who knew and loved Violet.
"Our thoughts are with those who are left to deal with the consequences of this little girl's death."
Related Internet Links
The BBC is not responsible for the content of external sites.