Legal bid to block building near Hampton Court Palace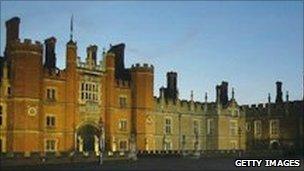 A row over controversial plans for a development on a derelict site opposite the Grade I-listed Hampton Court Palace has moved to the High Court.
Permission for flats and a hotel to be built on the Jolly Boatman site in East Molesey was granted by Elmbridge Borough Council nearly two years ago.
Keith Garner, an architect, is seeking to block the development, saying it would harm the setting of the palace.
He has asked High Court judge Mr Justice Ouseley to quash the decision.
Permission was granted to developer Gladedale Group Ltd and Network Rail.
The proposals include a hotel, housing, a new care home for the Royal Star and Garter charity and a refurbished Hampton Court station building.
Historian David Starkey has condemned the plans as not only "a national scandal but an international scandal", while local resident and Steptoe and Son writer Ray Galton has donated to Mr Garner's legal fund.
Mr Garner, from Battersea, said the development would be "immensely damaging" and urbanise the parkland, blocking important views.
He has also accused Elmbridge council of failing to take account of the special importance of the palace, or the fact that the development area is subject to a risk of flooding.
In court, Richard Drabble QC, appearing for Mr Garner, argued the planning permission was legally flawed not only by the failure properly to address the flood risk, but also by the council's failure to give adequate reasons for giving the go-ahead.
The council has denied the accusations, and said Mr Garner had taken too long to bring his claim and did not have a sufficient interest in the matter to qualify him to seek judicial review.
Mr Garner was a consultant to Historic Royal Palaces (HRP) for 10 years from 1994 to 2004 and was involved in its attempts to prevent the development of the Hampton Court station and Jolly Boatman sites.
Related Internet Links
The BBC is not responsible for the content of external sites.