Boost for statue of black footballer Arthur Wharton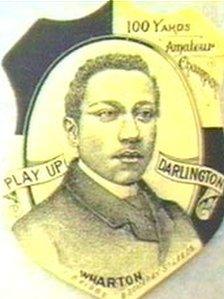 The campaign to erect a statue to honour the world's first black professional footballer has been give a £20,000 boost.
The Football Association has donated the money to the appeal for a statue for Arthur Wharton.
He was Darlington's goalkeeper in the 1880s and the statue, by sculptor Vivien Mallock, will be in the town.
A location is still being looked for but it is hoped the statue will be ready by next year.
The campaign has been run by businessman Shaun Campbell who said it was right organisations reflected football's rich cultural diversity.
He said Wharton - who came to Darlington to train as a Methodist preacher - was a pioneer and trailblazer and it had been a long time to wait for recognition.
He said: "It's great for Darlington, it's great for the North East."
The campaign has been running for more than three years.
Mr Campbell said: "It's just a really exciting stage."
He said it would be the first statue of a black player in England.
Ms Mallock also created the statue of Brian Clough which stands in Middlesbrough's Albert Park.
She said the Wharton statue would take a year to make.
"It's a huge challenge. I am a bit nervous about it. But it is very exciting."
Wharton, originally from Africa's Gold Coast, now Ghana, was Darlington's goalkeeper from 1885 to 1888. He also played for Preston North End, Stockport County and Sheffield United.
Related Internet Links
The BBC is not responsible for the content of external sites.