East Lancashire housing partners still optimistic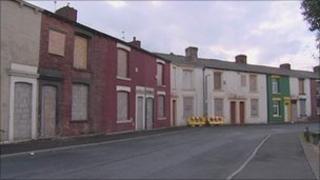 East Lancashire regeneration partners remain optimistic about projects to transform its dilapidated housing.
The government last week revealed that the Housing Market Renewal (HMR) programme was being wound up and merged with its new £1bn regional growth fund.
More than £300m has been spent in east Lancashire but houses on some streets remain boarded up awaiting work.
But Regenerate Pennine Lancashire (RPL) said it was confident there would be future funding opportunities.
Some 7,500 homes have been rebuilt or refurbished in the region since the project began.
Housing Minister Grant Shapps last week told the Commons that all the committed HMR schemes would be completed before funding is rolled up into the regional development fund in March 2011.
Jackie Wilson, executive director of housing at development agency Regenerate Pennine Lancashire, said: "We started this process back in 2003 so we are only a short way into what was always envisaged to be a 15-year programme.
"The progress we have made in this short period of time is incredible.
"If you look at the houses, 6,000 properties refurbished... and £120m of private sector investment brought in."
"We'd be worried if we thought that was the end of the investment for Pennine Lancashire, but it isn't.
"We know there [are] going to be future opportunities to work with the government to keep the money coming and we can use that as a catalyst to get the private sector working with us and keep that community confidence."
Council support
East Lancashire was one of a number of areas of England selected for the HMR scheme when it was set up in 2002.
The fund aimed to stimulate the housing market in areas of low demand through a combination of housing stock refurbishment, clearance and replacement.
Despite uncertainty about future funding for house refurbishment schemes, Mike Blomeley, the Conservative leader of Pendle Council, said he was confident they would continue.
"I have to understand that the government has to deal with bigger financial issues and clearly it's a problem to us, but I think it's a problem we can still deal with and I think we are capable of rising to the challenge it presents."
"We have a private sector mechanism that is delivering. That will continue to work and we are lobbying hard along with colleagues from RPL to provide additional finance in the future."
In a statement, the Department for Communities and Local Government said councils would have access to the Regional Growth fund to support key projects, once HMR ended.
"It is for local councils to determine their own needs but the Government will continue to work with those who wish to ensure that regeneration continues to happen in some of our most deprived areas," said a spokesperson.