Gang jailed for East Anglia cash machine robberies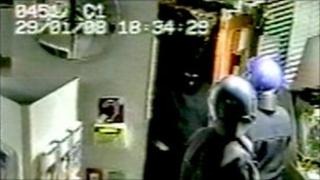 Six people have been jailed for terms of between 20 months and 20 years after being convicted over a string of cash van robberies between 2007 and 2009.
The gang targeted night-time deliveries to cash machines and supermarkets in Norfolk, Suffolk and Essex.
Police said the East London gang spent the money on fast cars and high living and robbed again when it ran out.
The Flying Squad's Detective Sergeant Jason Hendy said they were "one of the hardest teams we've ever targeted".
Armed police
The gang, led by Danny Speed, did not carry guns but were usually armed with sledgehammers, axes, machetes and Tasers and wore black overalls. They were described by witnesses as looking like the SAS.
The crime spree came to an end on 19 November 2009 when armed police ambushed the gang as they prepared to rob a delivery to a Morrisons supermarket in Hadleigh, Essex.
Four members of the gang, including Speed, were sitting in a stolen pick-up truck in the car park of Morrisons fully kitted out in black overalls and balaclavas when armed officers from Scotland Yard's SO19 unit arrived.
All four men in the car admitted conspiring to rob Morrisons but Speed and several of his accomplices continued to deny their involvement in the other robberies.
After a trial at Snaresbrook Crown Court in London four men were convicted. On Friday they were sentenced along with Mark Richards, 30, and Scott Guy, 36, who had pleaded guilty.
A seventh man, Paul Oughton, 31, was convicted after a retrial but will be sentenced on Monday.
Two men - Allan Wiltshire, 23, and James Sweeney, 29 - were acquitted of all charges.
Guards threatened
Speed, 30, from Beckton, east London, was jailed for 20 years for armed robbery.
Lee Watson, 43, also from Beckton, was jailed for 16 years and Andrew McCracken, 31, from Dagenham, east London, got 15 years, also for armed robbery.
Richards, from Rainham, Essex, was jailed for 13 years, for armed robbery and Guy, 36, of no fixed abode, was given nine-and-a-half years for a single armed robbery.
James Cook, 29, also from Dagenham, was locked up for 20 months for conspiracy to burgle.
The gang, who stole a total of £341,000, had been so prolific that since their arrest, police say, there has been a 100% reduction in cash-in-transit robberies in Norfolk.
The gang usually waited until the guards had opened the cash machine and removed the money from the boxes.
They knew that if they stole the money in the cashboxes it was worthless because of the dye inside which is triggered if the boxes are opened by anyone but the guard.
They would smash their way in and terrify the guards into handing over the money.
One guard, Christopher Allen, told the trial how they smashed their way in as he and a colleague were replenishing a cash machine in Brightlingsea, Essex.
He said two robbers were armed with an axe and a Taser. They told him to get on the floor, saying: "If you ever want to see your wives or families again, if you want to get through this, lie on the floor."
The robbers got away with £111,850 on that occasion.