Dartford Crossing congestion 'discourages investment'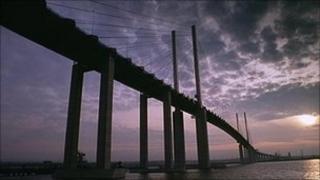 Traffic jams at the Dartford Crossing between Kent and Essex have held back investment in the region, according to a local MP.
Dartford MP Gareth Johnson said the congestion caused by the current toll system was "probably the biggest local issue affecting Dartford".
The Conservative MP has secured a parliamentary debate on the issue.
The Department of Transport (DfT) hopes to remove the toll booths by 2012 to ease traffic.
'Dartford's nemesis'
Mr Johnson said: "The congestion on the Dartford Crossing is probably the biggest local issue affecting Dartford. It undoubtedly holds back Dartford and much of the Thames Gateway area.
"It could be a positive thing for the local area, instead it is Dartford's nemesis."
He added: "Businesses can budget for the cost of the crossing, what they cannot plan for is the unpredictable nature of the congestion.
"This is what keeps businesses away from the local area and often frustrates those that are based on the industrial estates around the crossing."
Mr Johnson said he welcomed plans to remove the toll booths, but still wanted the crossing charges to be scrapped.
Toll charge rise
In October the government announced plans to increase charges as part of its Spending Review.
Under the proposals, toll charges could rise from £1.50 to £2 next year for cars, before rising to £2.50 in 2012.
The DfT said the money would be used to improve traffic flow.
A spokeswoman for the DfT said: "The Highways Agency is currently developing the detailed proposals for the implementation of newer technology to enable free-flow charging at the crossing."
The Dartford Crossing links the M25 across the River Thames and carries about 150,000 vehicles a day.