Dartford car tolls increase criticised by Essex MP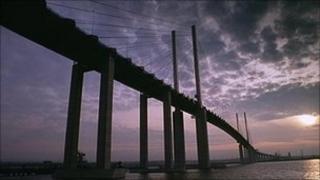 A Conservative MP has criticised plans to increase the tolls for cars using the Dartford Crossing between Essex and Kent to fund new projects.
Basildon and Billericay MP John Baron has written to the Department for Transport which plans to raise charges.
Tolls for cars could rise from £1.50 to £2 in 2011 and £2.50 in 2012.
The department said the rises could help fund construction of a new crossing and the introduction of Automatic Number Plate Recognition.
Mr Baron said the £45m annual profits from existing tolls should pay for these.
He said: "The government justifies, at least in part, the increased charges by talking about introducing Automatic Number Plate Recognition technology to enable free-flow charging at the existing crossing.
'Residents frustrated'
"They also want to see the extent to which this reduces congestion before raising funding for a new crossing.
"By the government's own estimation, the Dartford Crossing raises £45m in profit each year.
"Surely this is enough to fund the introduction of Automatic Number Plate Recognition technology such as exists for the London Congestion Charge.
"Local residents are frustrated by the fact that they helped to pay for the original tunnel back in the 1960s on the promise that tolls would be abolished once the crossing was finally paid for.
"This point, I believe, was reached in 2003."