Tottenham's Harry Redknapp faces tax evasion trial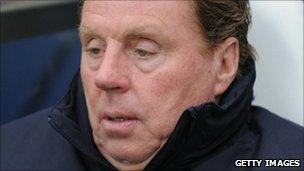 Tottenham Hotspur manager Harry Redknapp is to face trial charged with two counts of tax evasion relating to his time as manager of Portsmouth.
Mr Redknapp was charged in 2010 with ex-Portsmouth chairman Milan Mandaric.
It is alleged two payments totalling US $295,000 were made by Mr Mandaric to Mr Redknapp via a Monaco bank account.
Mr Redknapp and Mr Mandaric will stand trial in July at Southwark Crown Court. Ex-chief executive Peter Storrie will also be tried on unconnected charges.
He will face a separate trial alongside Mr Mandaric charged with tax evasion in May.
All three have denied the charges, which followed a three-year police and customs probe into the club's affairs.
Mr Redknapp is charged with two counts of cheating the public revenue of an estimated £40,000.
The charges concerned two payments, totalling US $295,000 (£191,000), alleged to have been made from Mr Mandaric to Mr Redknapp via a bank account in Monaco, evading National Insurance contributions.
Mr Mandaric is charged with tax evasion relating to the payment.
Mr Storrie, of Hayling Island, Hampshire, is charged with concealing a signing-on fee for ex-Portsmouth player Amdy Faye by paying it into the midfielder's bank account.
Mr Redknapp was arrested at his home in the exclusive Sandbanks area of Poole, Dorset, in November 2007.
In May 2008, he and his wife Sandra launched a court challenge against the arrest and a search of their house.
They were awarded £1,000 damages against City of London Police, after the High Court ruled the search was unlawful.
Related Internet Links
The BBC is not responsible for the content of external sites.