County Durham train plant decision delayed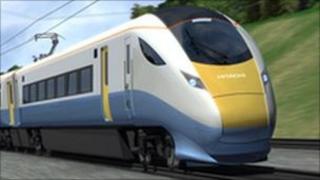 The government has delayed making a decision on replacing ageing Intercity trains, which it was hoped would bring 800 jobs to County Durham.
A consortium led by Japanese company Hitachi was the preferred bidder to build carriages and trains at a site at Newton Aycliffe.
But the government will now consider a cheaper revised bid from Hitachi, as well as an alternative for a fleet of all-electric trains.
A decision is expected next year.
Hitachi was provisionally awarded a £7.5bn contract to build carriages, with its preferred location being Newton Aycliffe. The estimated boost to the North East economy was projected to be £660m over 20 years.
But the scheme is dependant on Hitachi being granted the Intercity Express Programme Contract, a decision which Transport Secretary Philip Hammond will not now make until next year.
A Department for Transport spokesman said: "A decision on this aspect will be made in due course."
'Frustration'
A spokesman for Hitachi said: "We are disappointed that there is yet no decision on our bid for the IEP, and therefore on our plans to bring jobs to the UK.
"We will be continuing our talks with the Department for Transport and will consider our position in the light of these."
A delegation of North East politicians, union officials and business leaders lobbied Mr Hammond last month, urging him to approve the Newton Aycliffe factory.
Sedgefield MP Phil Wilson, whose constituency includes Newton Aycliffe, said: "I am getting sick and tired of the government putting this off.
"I can understand how frustrating this must be for all those concerned, including Hitachi.
"I will keep on at the government about this until they make a final decision."
Hopes for the work coming to Newton Aycliffe have been further dampened amid speculation the contract for new train carriages could be split between Hitachi and Derby-based train builder Bombardier.