North West commuters welcome rail electrification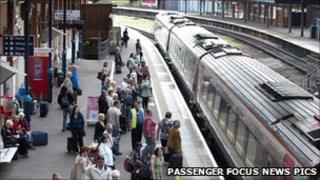 The electrification of railway lines between Manchester, Liverpool and Blackpool has "given hope" to commuters, a passenger group has said.
The project is part of £8bn of rail improvements unveiled by the government which will also mean more carriages on the region's rail services by 2019.
The electrification work is scheduled to start between 2013 and 2016.
Anthony Smith, chief executive of the independent watchdog Passenger Focus, said he welcomed the announcement.
"With fares rising in January, there will be even more emphasis on passenger care," he added.
"They just want to see reliable fast trains that aren't crowded, which will hopefully happen with the help of this investment.
"It gives us some hope."
Paul Nettleton of Blackpool Rail Users Association, said: "I don't think people have grasped how important this is going to be.
"In the first place we will see the restoration of through trains to London Euston, which we haven't had for six years.
He added: "It will also be quicker to get to Manchester and Liverpool."
The region will receive a share from the 2,000 extra carriages that Transport Secretary Philip Hammond has promised.
It is not clear at this stage which rail services in the North West will be benefiting from the new carriages.
'Some disruption'
Network Rail said it had started doing background work and researching into how the electrified lines would be installed.
A spokesman said: "There are 35 bridges alone between Manchester and Liverpool so it is going to take some work.
"Some bridges may have to be demolished and others altered to allow the overhead lines through.
"We have made headway on all the planning already, but there may be some disruption as work goes ahead."
The news has been welcomed by Merseytravel, which said it was "delighted" the upgrade was going ahead.
Its chairman, Councillor Mark Dowd, said: "This investment is absolutely vital to the region, the line is a key economic and arterial route into two major regional economies so the investment makes commercial and environmental sense and comes at a time when the economy is in difficulty and investment in public services is essential."